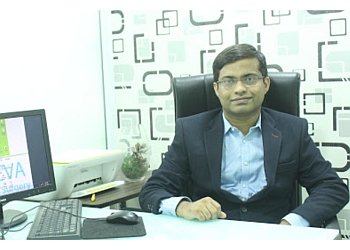 Qualification : MBBS, MS - General Surgery, M.Ch. (Plastic Surgery)

Experience : 15 + yrs.

Areas of Interest : Hair Transplant Surgery

Specializations : Plastic & cosmetic Surgery, Bariatric Surgery
Dr. Audumbar Borgaonkar, a well-known plastic surgeon founded the Areeva cosmetic surgery centre, an up and coming center for many cosmetic procedures and especially hair transplants in Navi Mumbai. He leads Areeva cosmetic surgery centre as a Plastic & Cosmetic consultant and hair transplant surgeon. Dr. Audumbar aims to restore hair and solve hair loss issues of his patients while ensuring their safety and good health. Areeva cosmetic surgery center is the best place offering affordable hair transplant cost in Navi Mumbai and premium quality hair treatments with 1000+ satised patients for the same.
Dr. Audumbar Borgaonkar has received his medical education and specialization from the prestigious Grant Medical College and Sir J.J.Group of Hospitals. For over 15 years he has honed his skills and gained rich experience in handling patients with hair loss and FUE transplant procedure. Dr. Borgaonkar is also a member of the Association of Plastic Surgeons of India and the Association of Surgeons of India.
Why Dr. Audumbar Borgaonkar offers the Best Hair Transplant In Navi Mumbai?
Experience

15 yrs. of overall experience.

1000+ hair transplant

surgeries with high

success rate.

Cost

Cost of hair transplant

in Navi Mumbai here

is relatively less

compared to a

metropolitan city like

Mumbai and this is

what makes the

experience of hair

transplant here even better and affordable.

Skilled Clinical Staff

Areeva Clinic

has a team of 5+ transplant technicians.

Technology

Areeva cosmetic

surgery centre is

equipped with

cutting edge technology

and latest techniques
Types of hair transplant offered at Areeva Cosmetic Surgery
While there are other alternatives to surgery, including prescription medications to slow the onset of balding, none are as effective as transplant surgery. That is the main reason why hair transplant in Navi Mumbai is on the rise. Basically, there are two types of hair restoration procedures – Follicular Unit Extraction (FUE) and Follicular Unit Transplantation (FUT). Between the two, FUE is more popular because
FUE is a less painful procedure as compared to FUT
In FUE, the scars are less noticeable as they are scattered all over the scalp, whereas in FUT, the long linear scar is visible in the donor area.
Also, the recovery period in FUE is much quicker than in FUT.
We, at Areeva Cosmetic Surgery, offer both these methods of hair restoration. Besides, we also provide DHI and Facial Hair transplantation, a new and advanced technique for hair transplant in Navi Mumbai.
Now, let us understand each technique in brief:
Follicular Unit Extraction -
FUE is one of the widely used and preferred methods of hair transplant in Navi Mumbai.

We remove individual follicular units from the backside of the scalp and place them into the bald or thinning area during this procedure. The FUE hair transplant procedure minimizes discomfort by using local anesthesia, even when extracting and transplanting up to 2500 grafts in a single session. It allows for fast recovery and minimal scarring so that you can keep your hair as short as you want in the future without any scar tissue showing.
Follicular Unit Transplantation -
FUT, or strip method, involves a thin strip of skin with hair being surgically extracted from behind your head and divided into grafts, each containing between one-four individual hairs. We place the grafts back into the tiny slits made into the scalp and stitch-up the area from where the strip of skin was taken. There will be a scar on the back of your head, but it will not be noticeable unless you have a very short haircut. Also, the head does not need to be completely shaved off. We will only trim the area from where the skin is removed.
Direct Hair Implantation -
DHI is one of the most advanced hair transplantation techniques we offer at our clinic, Areeva Cosmetic Surgery. Certified surgeons only perform it. In this technique, Dr. Audumbar Borgaonkar extracts hair follicles one by one from the donor area with a specially designed tool for this purpose. To enhance the development of these follicles, we immerse them in a solution at a specific temperature. Then with the help of DHI Implanter, these follicles are placed directly into the recipient area. No holes or slits are not made in advance.
Facial hair transplant –
With advancements in medical science, it is now possible to restore or thicken moustaches and beards by transplanting the grafts from the scalp. For facial hair transplant, we use the FUE method. However, it is more intricate and laborious than a regular hair transplant. The transplanted moustache and the beard can be cut, shaved, and generally handled in the same way as a natural moustache or beard.