Hair loss is a common sign of aging. It is a part of life! One can't help it.
But what if you lose hair early in life when you are young?
What can be more terrible than appearing older than your age!
Unfortunately, in Navi Mumbai, many people go through this terrible phase!
They experience hair loss at a younger age and thus look older than their age! Though young, they look old due to hair loss.
Do you also fall in the above category of people?
Are you also experiencing hair loss at a young age?
Don't worry! There is a solution for every problem. You can get your hair loss treated by visiting the best hair transplant clinic in Vashi, Navi Mumbai. We provide various effective solutions to treat your hair loss problem, such as PRP (platelet-rich plasma) treatment, FUE hair transplant, Mesotherapy, etc. This article talks about PRP treatment, its procedure, benefits, cost, and more.
PRP (platelet-rich plasma) treatment for hair loss is a 3-step medical treatment in which a patient's blood is drawn, processed, and then injected into the scalp. PRP is an advanced, non-surgical procedure to treat hair loss conditions amongst patients with requirements of hair growth stimulation. It is also used for healing injured tendons, muscles, and ligaments.
What are the benefits of PRP hair treatment?
PRP treatment offers various benefits. Some of the benefits of PRP treatment are as follows-
No downtime or recovery process
Painless and quick process
The controlled hair growth cycle
Triggered and maintained growth phase
Increased supply of blood to the hair follicles
Increased confidence due to new hair growth
What is the procedure of PRP treatment?
PRP treatment for hair loss is a 3-step process. PRP therapy requires 3 treatments four to six weeks apart. Maintenance treatments are needed every four to six months.
The following are the 3 steps of the PRP procedure-
1st Step
Blood is drawn from your arm and is put into a centrifuge. A centrifuge is a machine that spins rapidly to separate fluids of various densities.
2nd Step
After ten minutes, you will notice that the blood in the centrifuge separates into 3 layers which are as follows-
Platelet-rich plasma
Platelet-poor plasma
Red blood cells
3rd Step
This is the last and the Final Step. In this Step, the platelet-rich plasma is drawn up into a syringe. It is then injected into regions of the scalp that require increased growth of hair.
Who are the best candidates for PRP treatment?
Anyone experiencing hair loss is usually a good candidate for PRP treatments, but those with early hair loss respond best to the treatment. PRP is best for patients with hair loss conditions such as androgenic alopecia.
What is the PRP hair treatment success rate?
The best hair transplant surgeon in Vashi, Navi Mumbai, advises that PRP treatment shouldn't be the only treatment used. Other treatment options such as medicines and other topical treatments should be used along with PRP treatment to achieve higher success rates. When administered in conjunction with medications, etc. PRP treatment has shown to be successful among seventy percent of whom it is issued.
Now let's look at some real-life examples of PRP treatment.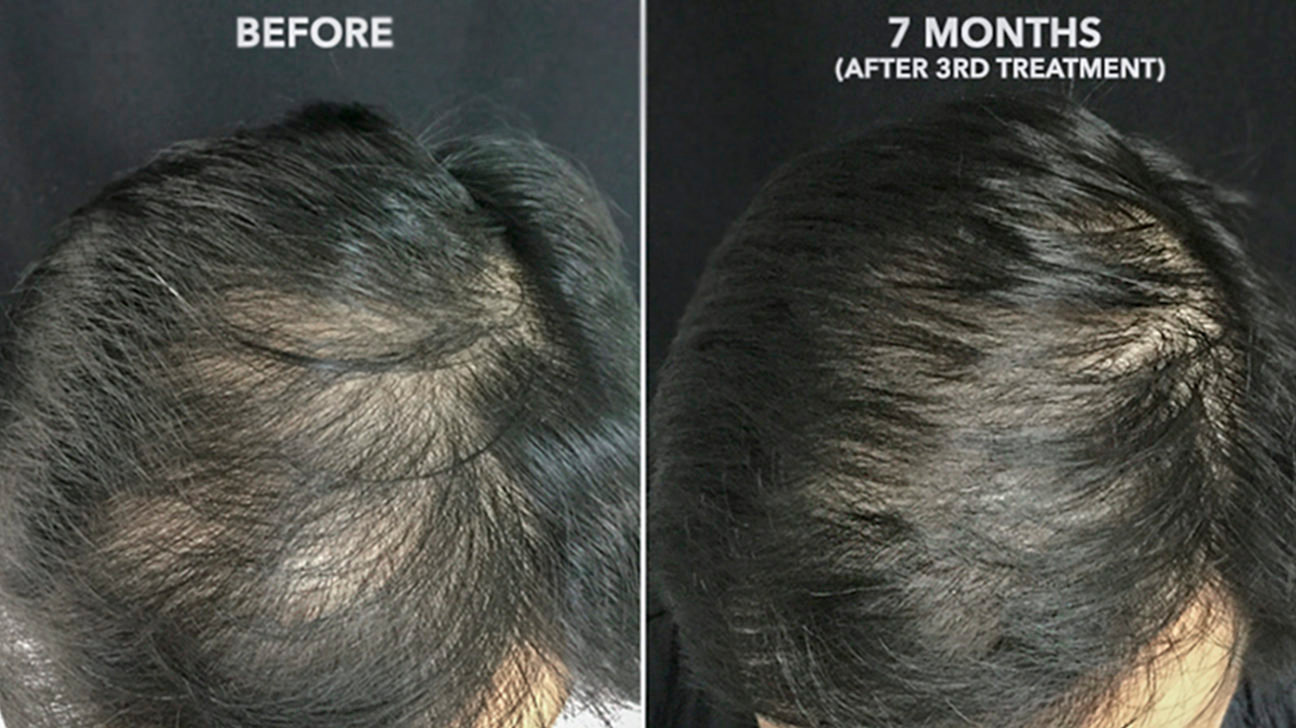 Source-healthline.com
• In a 2017 study, fifty men with androgenic alopecia (male pattern hair loss) took part in a trial to see if PRP treatments were effective. A PRP injection was given to them on the left side of their scalps. They were solely injected with saline on the right side. According to the results, the hair on the left side thickened, and new hair began to develop.
• 10 males with androgenic alopecia were tested in a 2015 study. These males received PRP injections for 3 months, and the results demonstrate that towards the end of the trial, they had denser, thicker hair with stronger roots.
What is the cost of PRP treatment?
The cost of PRP treatment depends on different factors. Some of the factors that influence the cost of PRP treatment are as follows-
Quality of equipment
One's geographic location
The addition of nutritional components
As many insurance companies consider PRP treatment a cosmetic procedure, PRP treatment is not covered by insurance. You can still ask your insurance provider whether they cover PRP treatment.
But you need not worry about the cost of PRP hair treatment, FUE hair transplant cost, or for that matter, the cost of any hair loss treatment. Because at our hair transplant clinic in Vashi, Navi Mumbai, we provide superior quality and cost-effective hair loss treatments.
And after all, the confidence and self-esteem gained after PRP treatment are invaluable! How can you define its cost? Everything is small compared to the amount of confidence and self-esteem gained after the treatment!
If you have any other queries related to PRP treatment, please feel free to contact us.
You can also visit our famous hair transplant clinic in Vashi, Navi Mumbai.
We are a one-stop solution for all your hair loss problems.
So, what are you waiting for?
Book your appointment now!
You are just a visit away from your hair loss solution!
It is now time to replace problems with solutions!