Every woman desires of gorgeous hair; still, there comes the time when she starts losing her hair. At that moment, the only option that can save you from baldness is hair transplant procedure.

Before it was thought that hair transplant surgery was not for females. But now, women can also opt for hair transplant to restore their hair as hair transplantation is created for all the genders to treat baldness.
If you want to restore your hair, then, do visit Areeva Cosmetic Surgery Centre and consult Dr Audumbar Borgaonkar for a high-quality Female Hair Transplant in Vashi, Navi Mumbai. Dr Audumbar Borgaonkar is one of the best hair transplant surgeons in Navi Mumbai provides the best hair transplant in Navi Mumbai. He is a board-certified Plastic and Reconstructive Surgeon with 13+ years of experience. Dr Audumbar specializes in FUE and Bio-FUE hair transplant techniques. With his treatment, he has happily satisfied 2000+ patients and has performed 1000+ hair transplant procedures.
Why choose Areeva Hair Clinic for Female Hair Transplant in Navi Mumbai?
Dr Audumbar Borgaonkar is a skilled hair transplant surgeon with 13 + years of on-field experience. He has performed 1000+ hair transplants with great success.
Qualified and Experienced Staff
Areeva Cosmetic Surgery Centre consists of a team of 5+ well-trained and experienced hair transplant technicians who ensure you are comfortable and safe during the transplant. It is necessary to have qualified and skilled hair transplant specialists who can be relied upon to do a trustworthy and accurate job.
Areeva Clinic has state of the art technologies, which makes the hair restoration treatments safer and comfortable. Dr Audumbar performs the latest hair transplants procedures like FUE and Bio-FUE. These methods are secure and give more density to hair. It also helps in achieving a consistent look and perfectly flawless results.
Female hair transplant cost in Navi Mumbai is comparatively less to a metropolitan city like Mumbai. Here, at Areeva we offer safe and cost-efficient hair transplants. It makes the experience of hair transplant here even better and affordable.
Hair Transplant for Women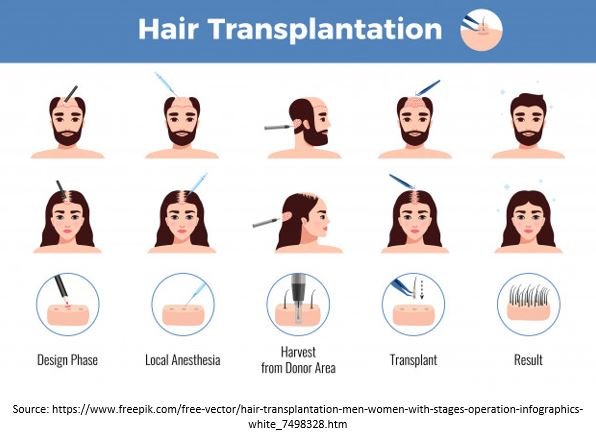 Hair transplants for females are unique and different from hair transplants for men. Hair replacement for women is the best alternative if hair loss causes undesired changes and severely impacts the psychology of the patient. Hair transplantation is a surgical method that assists hair to regrow on the bald patches. A hair transplant is the most reliable option if performed by a board-certified and experienced hair transplant surgeon.
How is female hair transplant done?
After cleaning the scalp, the surgeon utilizes a minute needle to anaesthetize the area of your scalp that needs a transplant. At Areeva Clinic, Dr Audumbar Borgaonkar implements one of the below methods to remove follicles for Hair Restoration in Females: FUT, FUE , Bio-FUE, and DHI.
In Follicular Unit Transplantation (FUT):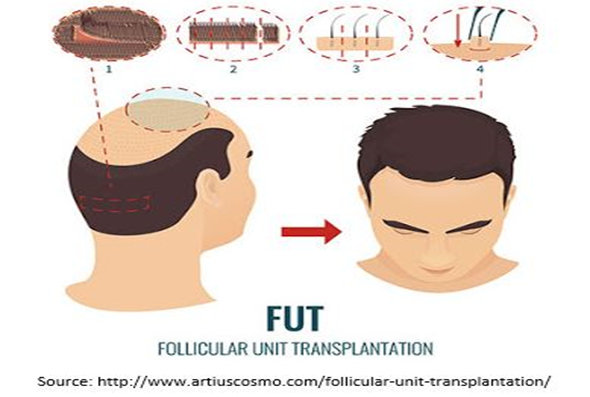 The surgeon using a scalpel removes a strip of scalp skin from the backside of the scalp.
The cut is usually several inches long. It is then closed with stitches.
The surgeon cuts the strip of scalp into small sections using a magnifying lens and sharp surgical blade. After the transplant, the hair follicles will achieve hair regrowth.
In Follicular Unit Extraction (FUE) hair transplant: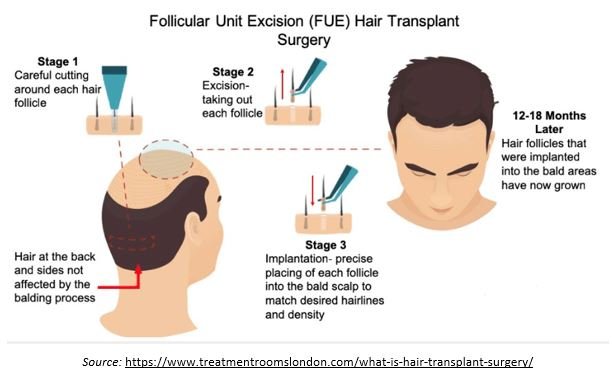 The surgeon extracts single hair follicles from the backside of your scalp, utilizing a micro-punch tool.
The surgeon makes minute holes with a punch in the region of your scalp that will receive a hair transplant. They gently insert single hair grafts in these holes.
During a single session, a surgeon may implant hundreds or thousands of follicles. A single hair transplant session can require three hours or more.
You may need four or six sittings to achieve the desired and abundant hair growth on your scalp.
In Bio-Follicular Unit Extraction (Bio- FUE) hair transplant:

The surgeon removes hair grafts from the donor region and keeps it in a platelet-rich-plasma (PRP) solution.
It is a nutrient-rich solution that increases the durability of the hair follicles outside the body.
It also improves the growth factors of the hair grafts.
The surgeon transplants these hair grafts into the bald region.
In Direct Hair Implantation (DHI):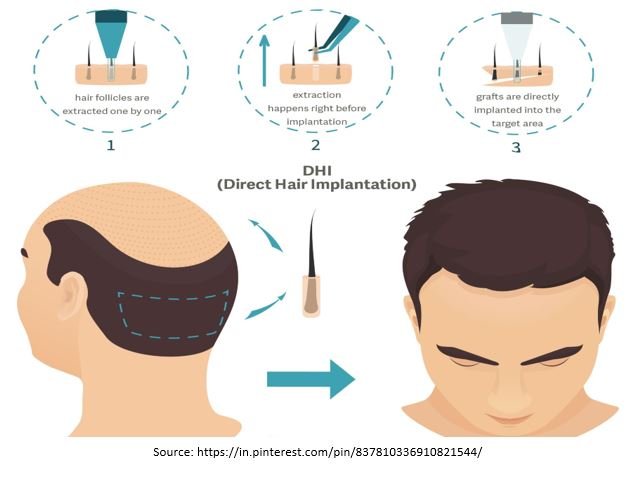 The surgeon will shave your head and give local anaesthesia to numb it.
The surgeon will extract follicles from the back of your scalp using a tool with a minute tip.
The hair grafts are loaded into a pen-shaped device and implanted into the balding area of your scalp without making any incisions.
The surgeon will apply an antibiotic lotion and place a bandage to all sites.
Benefits of Hair Transplant Treatment:
Hair transplant surgery offers many advantages, like:
Natural hair regrowth
Minimum downtime
Comfortable and Scar-free
More economical in the long run
Side-effects of hair transplantation:
Side effects from a hair transplant surgery are rare and clear up within a few weeks. They can include:
bleeding
inflammation of the scalp
bruising around the eyes
temporary numbness on the operated areas
itching
infection
If you are a female dealing with severe hair fall, then it is worth consulting Dr Audumbar Borgaonkar at Areeva Cosmetic Surgery Centre for a suitable hair transplant treatment.