Do you want a beautiful look only by replacing one thing in your face, your eyelashes?

Want that feminine, gentle, large eyelashes everyone desires?

At Areeva Cosmetic Surgery Centre, we have the permanent solution to fulfil your above wishes: An Eyelash Hair Transplant.
At Areeva Cosmetic Surgery Centre, we provide a safe, long-lasting, and affordable eyelash hair transplant in Vashi, Navi Mumbai. We strive to give you beautiful, elegant, and aesthetic eyelashes. Areeva Clinic boasts of proficient and skilled hair transplant surgeon, Dr. Audumbar Borgaonkar, the Head of Areeva Cosmetic Surgery Centre provides the best hair transplant in Navi Mumbai. He is also one of the best hair transplant surgeons in Vashi, Navi Mumbai, with more than 13 years of experience. He is a Plastic & Reconstructive Surgeon specializing in FUE and Bio-FUE hair transplant techniques. He has treated 2000+ patients and has executed 1000+ hair transplants.
Why choose us for Eyelash Hair Transplant in Vashi, Navi Mumbai?
Areeva Clinic is a one-stop for all types of hair transplant treatments. Hence, our patients recognize Areeva as one of the top hair transplant clinics in Navi Mumbai.
For eyelash hair transplant, excellent skills and expertise are essential for retaining your eyelash's natural look. Dr. Borgaonkar has these capabilities as he has skillfully performed 1000+ hair transplants. And has served patients with the desired results without any complications.
We have a team of five qualified and skilled hair transplant technicians who ensure you are safe and relaxed during the process.
Areeva Clinic has the latest technologies. It makes hair transplants more reliable and comfortable.
We offer the most advanced hair transplants, like FUE and Bio-FUE. These methods are safe and provide scarless results.
We provide reliable and reasonable eyelash hair transplants. So your experience of eyelash hair transplant at Areeva will be great and more affordable.
What is an Eyelash Hair Transplant?

An eyelash hair transplant is an effortless and straightforward procedure. It includes extracting hair follicles from different body areas. Further, the surgeon transplants the donor hair into the eyelash line. Hair transplant experts recommend it to patients who are unhappy with their missing, small, weak, or inadequate eyelashes.
What does the Eyelash Hair Transplant Cost in Vashi, Navi Mumbai?
Eyelash hair transplant cost in Navi Mumbai is relatively cheaper than in a metropolitan town like Mumbai. At Areeva Clinic, we frame our prices to a range where anyone can manage it. The eyelash hair transplant cost depends on various factors such as the number of follicles required, type of technique used for removal of hair follicles, the surgeon's experience, etc.
How is the Eyelash Hair Transplant conducted?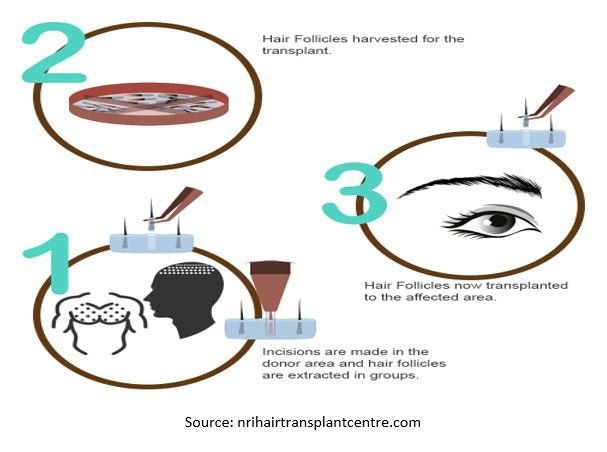 Before the transplant, the surgeon will administer a sedative to make the patient comfortable and calm.
At Areeva, our surgeon chiefly utilizes the FUE technique to remove hair follicles for eyelash hair transplant. This method provides faster recovery, less downtime, and desired results without any scars.
The surgeon will extract individual hair follicles, generally from the scalp's back. As this area has more loss-resistant and strong strands. Such hair can provide desired permanent results.
The surgeon will place the follicles at the end of a specialized eyelash hair transplant needle. The needle forms a tract over the eyelid and comes out at the eyelash line.
After removing the donor's hair, the surgeon will fix 50 to 110 single follicles into each upper eyelid. Next, the surgeon will continue with the lower eyelid hair transplant.
The surgeon will arrange the hair at an exact angle to blend with the existing eyelashes. The surgeon will then implant the hair according to the patient's requirements to achieve their aesthetic goals.
If you consider eyelash transplant, then do, visit Areeva Clinic and book an appointment with our expert hair transplant surgeon Dr. Audumbar Borgaonkar.