Lips are one of the most defining features of beauty and elegance. It is fashionable for the youth generation to have large fuller lips. However, not everyone likes their lips to be a prominent facial feature. Lip correction surgery can create beautiful and attractive lips by modifying their size and shape.
At Areeva Cosmetic Surgery Centre, our Founder, Dr. Audumbar Borgaonkar, performs reliable and cost-efficient lip correction surgery in Navi Mumbai. Dr. Borgaonkar has dealt with 2000+ patients within 13+ years of experience. He has executed lip correction surgery in many people. Hence, he has gained immense knowledge and skills in lip reshaping techniques. It is the reason why people recognize Dr. Borgaonkar as one of the best lip correction surgery doctor in Navi Mumbai. Dr. Audumbar Borgaonkar is also best known for his expertise as a cosmetologist in Navi Mumbai. Moreover, he is one of the renowned skin specialist in Vashi, Navi Mumbai, who can give you a flawless appearance through medical and cosmetic procedures such as nose surgery, lip correction, and more.
Continue reading to know if lip correction surgery is best suitable for you.
Lip Correction Surgery
Lip correction surgery is a procedure that involves reshaping your lips to acquire the desired shape. People having thin lips can undergo lip augmentation to achieve plumped lips. It helps improve the beauty of your lips. Individuals with large lips can get more beautiful and attractive lips with lip reduction surgery. Based on the client's choice, there are various types of lip correction surgeries to acquire the attractive and desired shape of the lip. Some of the popular lip correction surgeries include:
Reducing or increasing the volume of a lip.
Lifting a droopy or hanging lip.
Modifying the shape of the lip to create a more beautiful and youthful appearance.
Are You An Ideal Candidate for Lip Correction Surgery?
You're eligible for lip correction if you are:
Unsatisfied with the shape of your lips
Above 18 years of age
Physically fit
Having realistic expectations about the result and recovery time of lip correction surgery
Non-smoker
Tests for Lip Correction Surgery:
Before surgery, your doctor will order some tests to check your medical condition to avoid severe surgical complications.
Some of the tests include:
Allergy test
Urine test
Fasting blood sugar test
Postprandial glucose test
Now Let's Understand, The Actual Process of Lip Correction Surgery
1. Lip Augmentation
Lip augmentation uses various materials to give the appearance of fuller lips. These materials help minimize wrinkles around the mouth. Lip augmentation can be done temporarily with fillers and fat injections.
a. Fillers
Lip correction surgery is an area where dermal fillers are extensively used. The fillers contain essential components such as Botox and hyaluronic acid. These smoothen the skin and restore the volume.
Process:
The cosmetologist injects a mild numbing agent before administering the fillers. They will prescribe several sessions to achieve the desired results.
The fillers help start collagen generation. It can restore the plump filled-up looks, especially in the lips.
The procedure requires 15 minutes and the results last for 6 to 8 months. It is a quick and safe procedure with immediate results.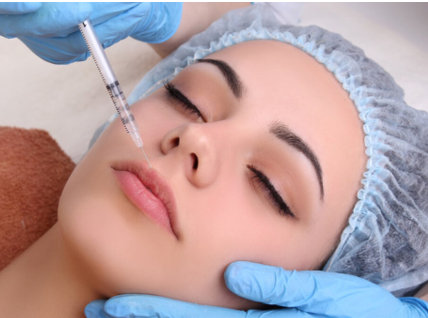 Fillers play a significant role in the alignment of contours, alignment of jaws, and so on.
b. Fat Injections
Your cosmetologist will inject processed fat from your body into your lips.
It is a safe lip augmentation approach.
You may require a repeat fat injection after three months for a touch-up.
2. Procedure for Lip Correction Surgery
It takes about 40 minutes to an hour.
Marking is done based on the desired shape by your cosmetic surgeon.
There are various lip reduction techniques like central excision, full-length excision, lateral excision, and asymmetric excision.
Your cosmetic surgeon will inject local anaesthesia and adrenaline at the operative site. Lidocaine numbs the lip area and makes the procedure a comfortable one.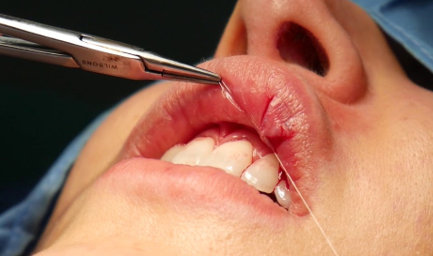 The surgeon makes an incision inside the lips according to markings.
Your surgeon will remove the mucosa and underlying tissues as per marking.
The incisions are then sutured with dissolvable stitches, leaving no visible scars.
You can go home immediately after the surgery.
Postoperative Care for Lip Correction Surgery
To reduce swelling and discomfort, apply an ice pack on the lips.
Check the temperature of food or liquid before taking it into the mouth.
It is advised to be on a soft diet for 2 to 3 days after the surgery to heal the wound quickly.
Regular mouthwash after every meal.
Elevate your head for a few days to reduce swelling.
Keep your lips moisturized and clean.
Use a small toothbrush and brush carefully.
If possible, kissing is restricted for at least two weeks.
Benefits of Lip Correction Surgery:
Reduces the size of large lips
Enhances the shape of thinner lips
Corrects hanged lips
Improves asymmetric lips
Why Should You Choose Areeva Clinic For Lip Correction Surgery In Vashi, Navi Mumbai?
· You will undergo lip correction surgery from Dr. Audumbar Borgaonkar. He is a skilled and certified dermatologist in Vashi, Navi Mumbai.
· We ensure you're satisfied with the final results of lip correction surgery.
· Areeva has modern equipment and state-of-the-art infrastructure. It helps us execute lip surgeries more efficiently and safely. Hence, we assure you will undergo the best lip correction surgery in Navi Mumbai at Areeva.
If you're unsatisfied with your lips' shape and desire to get attractive lips, make an appointment with Dr. Audumbar Borgaonkar, a reputed dermatologist in Vashi, Navi Mumbai.