Are you worried about the excess fat hanging from various parts of your body? Does it make you uncomfortable and self-conscious when you meet people?
Do not worry! Remove your excess fat from your body and get a slimmer look with Liposuction in Navi Mumbai.
About Dr. Audumbar for Liposuction: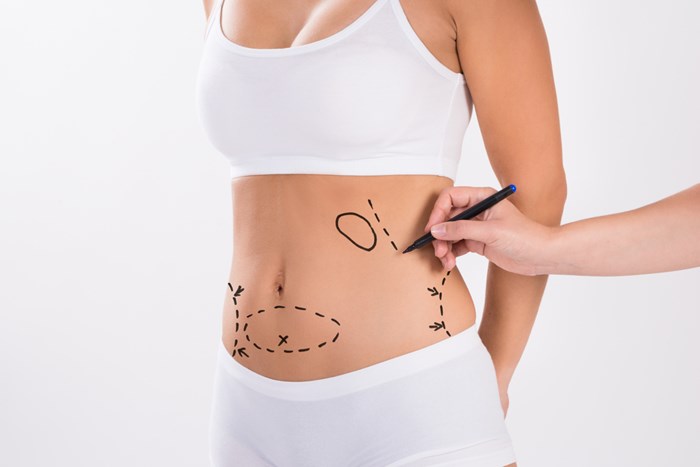 Dr. Audumbar Borgaonkar is a well-known plastic surgeon who provides the best hair transplant in Navi Mumbai. He has gained fame in performing liposuction surgery on his patients successfully. He developed his skills and gained experience from doing medical practice for over 13 years. He believes in the personalized technique of treatment for their patients with safety. Our doctor has highly qualified and experienced staff to accompany him in his treatment procedure. He uses technology and tools as per modern medical science.
What is Liposuction?
Liposuction is a surgery performed to remove the excess fat cells from parts of the body where fat is collected like, stomach, thighs, buttocks hips, love handles, ankles, breast, arms, back, neck, face, and saddlebags. This method is beneficial to eliminate fat from those body parts which are not reacting to diet and exercise. Liposuction is one of the most used and safest procedures to get into your desired shape. It removes fat cells permanently and gives better results. It refines and enhances body shape.
Reasons to do Liposuction
Even after maintaining a proper diet and doing rigorous exercises, the fat display on your body parts won't reduce.
You want to look slimmer and in-shape in fitted clothes.
You want to accomplish a sleeker shape and more definition in the specific body area.
You want to remove fat deposits in particular areas of your body that seems disproportionate to the rest of the body.
You have excess fate due to medical issues like lymphedema, gynecomastia, lipodystrophy syndrome, and lipomas.
Types of Liposuction
Different types of liposuction procedures are available. These techniques are as follows-
Suction-assisted Liposuction: This is the standard liposuction procedure. It includes a cannula that has a vacuum tool. Our doctor inserts into the treatment region where our doctor moves to and fro to break the stored fat and extracts them from the body by using suction.
Wet Liposuction: Here we inject an isotonic liquid, into the problem area to break the fat deposit. After that, we use a cannula to remove the extra fat.
Tumescent Liposuction: In this method, we use local anesthesia vasoconstrictor (epinephrine), which is infused into the fat in the proportion of 3-4 ml for every ml of suction, to make the treated region tense with liquid.
Super wet method: Here, we use a similar approach with a 1:1 proportion of infiltrated solution to eliminate the fat. It is a faster process yet may require extra sedation.
Ultrasound-assisted Liposuction (UAL)- In this technique, we use a particular type of cannula that releases ultrasound vibration. It helps to burst the fat cells and makes it easier to remove them by suction.
Power-assisted Liposuction (PAL)- This technique is similar to the first technique. The difference is the movement of the cannula is automated. Thus, it reduces the pressure on the surgeon and improves speed and accuracy.
Water-assisted Liposuction (WAL)- In this technique, we infuse a thin fan-shaped water jet into your fat cells. It does not destroy the adjacent tissues.
Twin-cannula Liposuction (TCAL or TCL)- Here, we use two tubes, one inside another to remove the fat cells. The first tube is used to lose the fat cells, and the inward tube is used for suction.
Laser-helped Liposuction- Laser energy is another useful technique for Liposuction. We use laser energy to break the fat cells. It keeps the adjacent tissues intact and improves the suction process.
The procedure of Liposuction:
Anesthesia- At first, our doctor gives the local anesthesia into your treatment area.
Incision- Then we insert a cannula into your stored fat cells to lose excess fat using a controlled back and forth motion.
Suction- Our surgeon, then extracts the diluted fat cells using a surgical vacuum through the cannula.
Closing- The surgery is an outpatient procedure, and you can go back to your home after the treatment.
Recovery- Recovery is generally home-based and problem-free.
Post-procedure recovery and precautions:
During the first 24 – 72 hours after the surgery, there will be draining of bloody fluid. So, it would help if you kept using a dark-colored towel.
It would help if you used compression garments (It is a particular type of cloth that fit tightly around your skin for better recovery) all the time except during bathing. It will help you to reduce swelling and speed up your recovery.
Keep moving in every two hours to prevent blood clots.
While in the bath use gentle soap on the operated area without scrubbing and dry the area gently.
You will need proper dressing and regular cleaning of your surgery area.
Take all the medications as the doctor advises.
Cost of Liposuction:
The cost of Liposuction in India varies from Rs. 35000 to Rs. 180000 on an average. Yet it may change according to the requirement of the patient and other things. To know the total cost contact us.
Ideal Candidates for Liposuction:
Adults having right muscle tone and firm and elastic skin
Individuals who do not have a life-threatening illness or issues with after surgery recovery
Non-smokers
Individuals who want to be in proper shape but do not want to avail other methods.
Advantages of Liposuction:
The benefits of Liposuction are as follows-
It is a safe and effective procedure.
It helps to treat medical conditions like gynecomastia, lymphedema and favourable lipomas (greasy tumours).
The extracted fat cells will not return.
It eliminates remaining pockets of fat after significant weight reduction, for example, people who have had gastric bypass, gastric sleeve, or some other weight reduction medical procedure.
It can undoubtedly be combined with different therapeutic approaches to deliver the ideal tasteful outcomes.
It can be performed on men or women to help them to be in shape.
Side effects of Liposuction:
The side effects of Liposuction are as follows-
Contour irregularities
Fluid accumulation
Numbness
Infections
Internal puncture
Fat embolism
Kidney and heart problems
Lidocaine toxicity
Frequently Asked Questions
Liposuction can treat which body part?
The most commonly treated areas for ladies are the breasts, belly, hips, thighs, knees, arms, cheeks, and neck. In men, the most treated regions include the jaw and neck zone, mid-region, flanks, and breasts.
What is a cannula in Liposuction?
A liposuction cannula is a little tube made of steel. It is injected through a cut in the skin and eliminates damaged fat cells.
Is there pain or discomfort after liposuction surgery?
During the two days following Liposuction, the level of pain depends upon the kind of sedation applied for Liposuction. The most severe level of irritation stays for 2 to 4 days after the surgery.
Is Liposuction a beneficial treatment for obesity?
Liposuction is not a proper treatment of overweight problem because there is a limitation of reduction of weight by Liposuction.