Are you conscious of the shape or size of your ears?
Are you bothered by your ears sticking out of your head?
You can get these issues corrected with ear surgery in Navi Mumbai at Areeva Cosmetic Surgery.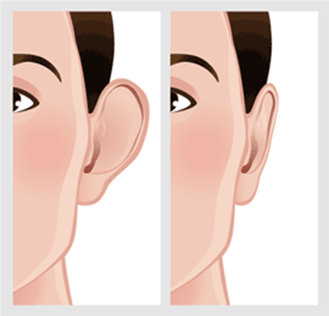 Dr. Audumbar Borgaonkar, one of the best plastic surgeon in Navi Mumbai, has more than 15 years of experience in Plastic and Cosmetic Surgery, Bariatric Surgery, and Hair Transplant.
He is an expert in cosmetic procedures such as liposuction, rhinoplasty, breast augmentation, ear surgery, etc. He offers his patients the latest surgical options that are known to give excellent results.
For safe, customized, and cost-effective plastic and cosmetic surgeries, visit Dr. Audumbar Borgaonkar. He has successfully performed many ear surgery in Navi Mumbai at his clinic, Areeva Cosmetic Surgery.
Ear Surgery Overview
Cosmetic ear surgery or Otoplasty is an operation that adjusts the ears' shape, size, or positioning. If you are concerned by how much your ears protrude from your head, you might consider ear surgery. If your ears are deformed as a result of an injury or a birth condition, you may want to undergo ear surgery. It can be done at any age when the ears have grown to their full size, generally after five.
Why is ear surgery done?
Ear surgery may be a good option for you if:
Your ears protrude excessively from your head.
Your ears are disproportionately huge or smaller in comparison to your head.
You are unhappy with the results of previous ear surgery.
However, to achieve symmetry, ear surgery is usually performed on both ears. Otoplasty will not modify the position of your ears or affect your hearing abilities.
What are the risks of ear surgery?
Ear surgery carries the following risks, such as:
Bleeding
Adverse reaction to anesthesia
Infection
Scarring
The positioning of the ears is asymmetrical or have unnatural contours
Temporary changes in the skin sensation in the area
Allergic reaction
Suture extrusion occurs when the stitches that hold your ears in place come to the surface of your skin and must be removed and replaced.
Overcorrection, giving the appearance of pinned ears.
Let's understand what to expect before, during, and after the ear surgery in Navi Mumbai.
Consultation
It is always advisable to choose a certified plastic surgeon like Dr. Audumbar Borgaonkar, one of the best plastic surgeon in Navi Mumbai, for your ear surgery. He has extensive training and experience in plastic and cosmetic surgeries.
During your consultation, he will review your medical history and ask questions about your current and former medical issues, as well as any medications you are taking.
He will assess your ears' shape, size, and placement and may also take measurements and pictures.
Further, Dr. Audumbar Borgaonkar, a renowned ear surgeon in Navi Mumbai, will discuss the procedure, risks and costs involved. He will also want to know about your expectations from this surgery.
During the procedure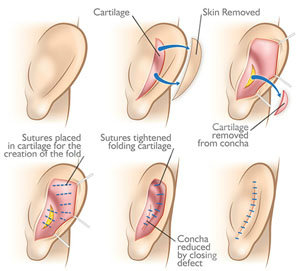 Ear surgery is primarily an outpatient procedure and takes about two hours, depending on the complexity and specifics of the procedure.
Local anesthesia and sedatives are usually used for adults and older children. However, general anesthesia may be used in some cases, especially in the case of younger children.
The surgical procedure is determined by the type of ear surgery you are having. In general, ear surgery entails the following:
Making an incision inside the folds of your ear or on the back of your ear.
Dr. Audumbar Borgaonkar, a proficient ear surgeon in Navi Mumbai, will manipulate the ear tissue by either removing cartilage or skin from the ear, folding and sculpting cartilage with permanent stitches, or grafting cartilage to the ear.
He will close the incision with sutures.
After the procedure
The surgeon will place a dressing over your ears after the procedure. Make sure your dressing is clean and dry. Follow your doctor's instructions regarding medication and aftercare.
Additionally, while you are recovering, try to do the following:
Avoid touching or rubbing your ears.
Choose a sleeping posture that does not place your head on your ears.
Wear button-up shirts or other apparel that you don't have to pull over your head.
Stitches may also need to be removed in some circumstances. If this is necessary, your doctor will inform you. Some stitches dissolve on their own.
Results
You will notice an immediate difference in the look of your ears after the bandages are removed. These modifications are permanent.