Cosmetic genital surgery refers to a procedure that alters the appearance of the genitals. Reshaping the labia, vulva, or penis is part of cosmetic genital surgery. Some people opt for this procedure because they are dissatisfied with the appearance of their genitals.
The goal of female genital reshaping, also known as labiaplasty, is to alter the size and contour of the inner labia or vulva's inner lips. The length, width, or breadth of the penis can be increased by a penile enlargement or augmentation surgery (phalloplasty). Gender reassignment surgeries are not the same as labiaplasty and phalloplasty.
Dr. Audumbar Borgaonkar, one of the best plastic surgeon in Navi Mumbai, is well-known for providing safe, advanced, and result-oriented cosmetic genital surgery. Moreover, Dr. Audumbar is also renowned for performing reliable and desired hair transplant in Navi Mumbai.
Continue reading this article to know more about cosmetic genital surgery, its types, and more.
Now, let's know,
Things to consider when it comes to cosmetic genital surgery
There are some important considerations to make before opting for cosmetic genital surgery:
You should expect to have scars. The scars will always be visible, even if they fade dramatically over time.
Labiaplasty does not shrink or tighten the vaginal opening. This necessitates a different procedure known as vaginoplasty.
Phalloplasty can only lengthen or widen the shaft of the penis, not the head. Phalloplasty to lengthen the penis will only lengthen the penis when it is flaccid, not when it is erect.
Smokers are more likely to develop difficulties. If you are serious about cosmetic surgery, you should strive to give up smoking.
You should address a variety of medical issues with your surgeon before surgery, including:
Physical well-being: A physical examination can assist your surgeon in determining whether the treatment is appropriate.
Medical history: Some pre-existing conditions and previous procedures may impact how this operation is performed, including the type of anesthesia utilized.
Psychiatric history: Before considering cosmetic genital surgery, some surgeons may recommend or require that you seek counseling.
Risks and potential complications: Understanding the risks and complications is critical when deciding whether cosmetic genital surgery is correct for you. Tell the surgeon about any medications or supplements you use daily or have recently taken, including over-the-counter treatments like fish oils and vitamin supplements.
Previous medication responses: Tell your surgeon if you have ever had an adverse reaction or a side effect from any medications, including anesthesia. For example, you might be said to take a specific drug or adjust the dose of the one you already have. Pay close attention to all of the instructions.
Let's discuss,
Different Types of Cosmetic Genital Surgery
The specifics of the procedure will vary depending on the patient; however, they will often include:

Labiaplasty: It is a procedure used to minimize the size of the labia minora (inner lips of the vulva). It is possible to utilize either general or local anesthesia. The surgeon removes the undesirable tissue and reshapes the labia to the correct size and shape.
A wedge-shaped piece of the labia can also be removed. To decrease bleeding, some surgeons use a laser instead of a scalpel. A labiaplasty is also used to minimize the labia majora (outer lips of the vulva). Some ladies prefer to have vaginal tightening surgery (vaginoplasty) at the same time.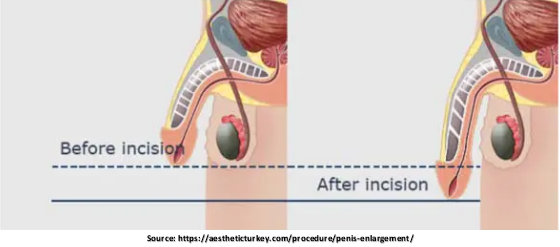 Enlargement phalloplasty: This procedure lengthens the penis either under general or local anesthesia. The surgeon cuts the ligament that connects the penis to the body and creates an incision (cut) at the base of the penis. The penis will expand further away from the body as a result of this.
Phalloplasty for girth enlargement: This procedure widens the penis either under general or local anesthesia. The surgeon may sew strips of fat beneath the skin of the penis (dermal fat grafting) or inject fat into the penis (fat transfer or fat transplant) using fatty tissue removed from another part of the body.
Full phalloplasty: Some men choose to have their penis lengthened and girth in the same operation.
What to expect after cosmetic genital surgery?
Following the procedure, you should expect bruising and swelling, probable numbness, soreness, and discomfort, and the need to wear dressings or bandages.
Let's know,
Cosmetic genital surgery complications
Every surgery entails some level of risk. The following are some of the potential side effects of cosmetic genital surgery:
Surgical risks such as bleeding or infection scars may be severely raised, reddened, and itchy.
Unevenness - the labia may not be symmetrical.
After fat transfer, there may be a permanent color change to the labia.
Nerve damage to the labia or penis, including permanent loss of sensation.
Irregular shape to the penis.
Impotence, but it is rare.
This isn't an exhaustive list. For example, your medical history or lifestyle may place you at a higher risk of specific consequences. For more information, you should consult with our plastic surgeon in Vashi, Navi Mumbai.
Post-operative Care for Cosmetic Genital Surgery
Recovery may take around six to seven weeks. Follow your surgeon's instructions, but here are some general self-care tips:
Follow all wound-care instructions.
After phalloplasty, you should use penile weights as instructed for a few weeks.
For at least 6 weeks, refrain from having intercourse.
Any bleeding, significant pain or odd symptoms should be reported to your surgeon.
What is the long-term outcome of genital cosmetic surgery?
Patience is required.
Scarring will last a lifetime. But it should lessen over time. It may take a year or more for scars to fade.
The effects of labiaplasty are long-lasting.
If the fat transfer was utilized to expand the penis, it is not permanent. It will go away over time since the body reabsorbs around half of the fat injected. Additional injections may be required.
The angle of the erection may be lower after phalloplasty to extend the penis, although this should not hinder sexual intercourse.
If you consider cosmetic genital surgery, book an appointment with Dr. Audumbar Borgaonkar to know the best suitable treatment option for you.