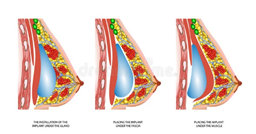 A woman's decision to have an augmentation mammoplasty is a very personal one. The thoughts of one patient may be completely different from those of another. If you are looking for a breast augmentation treatment in Mumbai, you should visit Dr. Audumbar's clinic. Dr. Audumbar is a well-known cosmetic surgeon and dermatologist in Vashi, Navi Mumbai. Here you will get the value for your money.
Know a few vital information about breast augmentation from our doctor.
What is breast augmentation surgery, and how does it work?
Breast augmentation or mammoplasty is a medical procedure that increases the size of a woman's breasts. Breast augmentation is also known as "boob work" or "breast enlargement surgery" in layman's words. Our skin specialist in Vashi, Navi Mumbai, would place saline/silicone implants within your breasts to raise the breasts' size during an Augmentation Mammoplasty.
Why do women want to have their breasts augmented?
Followings are some of the most common reasons why you may have your breasts augmented:
To make their breasts appear fuller.
To achieve a symmetrical appearance (if one of the breasts is smaller or more elongated than the other).
Following a mastectomy, you will need to repair your breasts.
After giving birth, you want to get back the shape of your pre-pregnancy breasts.
You aimed to create a better cosmetic balance between your breasts and hips.
To improve your self-esteem and appearance.
Who is the successful candidate for breast augmentation?
If you meet any of the following conditions, you are a perfect candidate for breast augmentation surgery:
You seem to be in good health.
You're not a smoker.
You aren't expecting a child or aren't breastfeeding.
Your breasts have reached their full potential.
You are unhappy with your breasts' appearance, scale, or shape.
As a cosmetic surgeon in Vashi, Navi Mumbai, we always advise our patients that having breast enlargement is not a good idea if you are doing that for social pressure. Having this operation done should be a well-considered choice you make for yourself.
What are breast implants, and what are their different types?
You can now choose which type of breast implant you want for your procedure. Each implant has its own set of benefits and costs. You should select the best match for yourself based on your budget and ultimate requirements.
Implants made of saline
Saline implants are sterile salt-water implants. They give the breasts a consistent shape and scale. Leading international medical bodies, such as the FDA in the United States and the IMA in the United Kingdom, have approved breast augmentation procedures.
Saline Implants with Structure
These implants are a step up from standard saline implants. They contain the same sterile salt water, but their internal structure is more well-defined. It allows the implant to fit in with the breasts more naturally.
Implants made of silicone
When it comes to breast augmentation, silicone breast implants are one of the most preferred options. The silicone gel has a texture similar to that of natural breast tissue. As a result, these implants have a better appearance than saline implants.
Implants of Cohesive Silicone Gel
Cohesive silicone gel implants, including standardized saline implants, are an improved version of standard silicone implants. They have a solid internal structure that gives the appearance of larger, rounder breasts. The gel prevents the implants from leaking. As a result, these implants are widespread.
What do you expect during your recovery?
The post-surgery recovery time is critical. The quality of your recovery determines the success of your surgery. So, during your recovery period, please make sure you obey the instructions of our doctor. When your surgery is complete, our doctor will first monitor the overall health parameters. Only when the doctor decides whether you're ready to release or not.
Our doctor will give you detailed instructions about taking care of yourself for the next few weeks before you leave the clinic. Restraints on physical activity and rest will be part of this strategy. You will need to wear support Breast lift and elastic bands for better recovery. We will provide medications for pain control and after-surgery complications to help you stay healthy during this period.
For a couple of weeks, you can feel sore and swollen, which is entirely natural. After 4-6 weeks, you will be able to resume your daily physical activities.